Regular price
Sale price
$49.99 USD
Unit price
per
Sale
Sold out
MUSHROOM BOOST is an organic blend of adaptogenic mushrooms that consists of Cordyceps, Reishi, Shiitake, and Maitake. NEW!! Our reformulation is now more potent and mixes easily into coffee, tea, smoothies, and recipes.
100% Satisfaction Guranteed

Free Shipping on orders above $64.99
Shipping and Returns

We offer free Standard Shipping on All Orders Over $64.99 in the US.
Orders placed on any business day will be processed on that same day or the next business day.
Allow approximately 2 – 3 business days (Monday – Friday) for tracking information to update.
Business days are Monday-Friday.
Our return policy for an exchange or refund is limited to orders of $25 or less within 30 days of purchase. Learn More.
View full details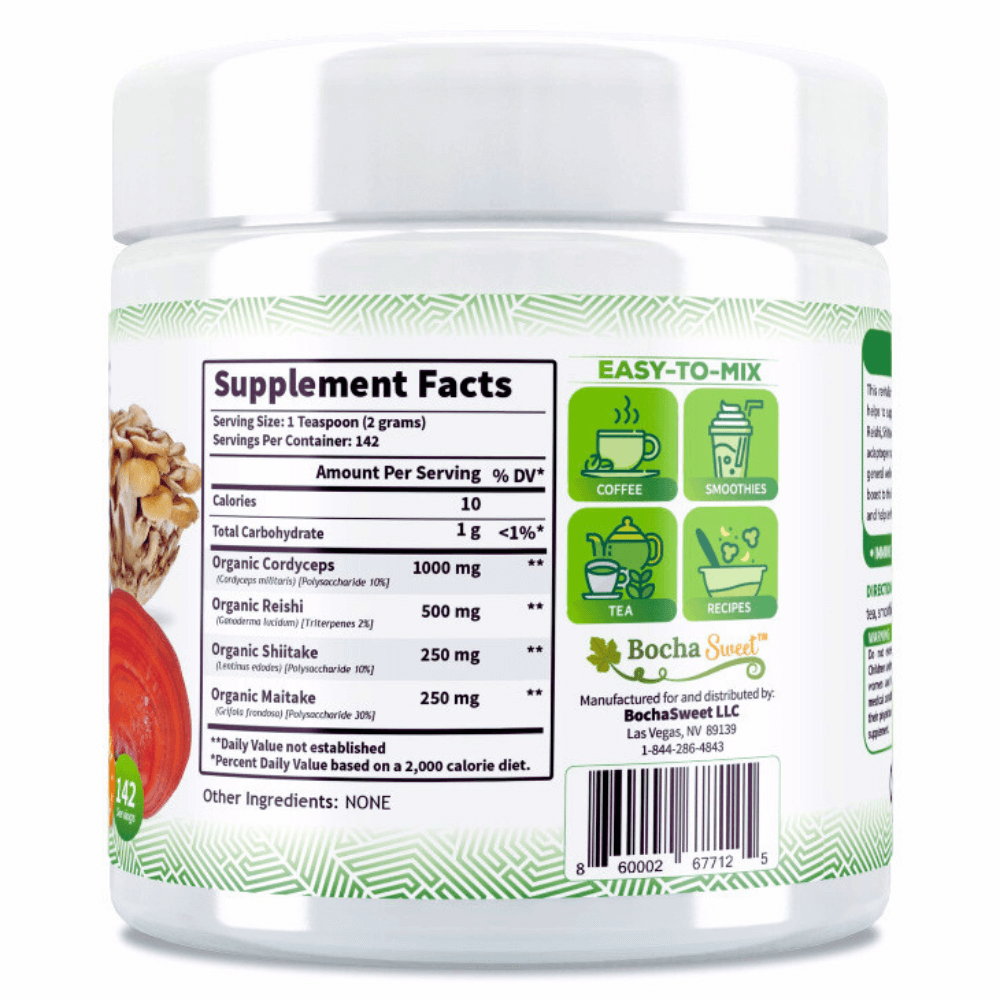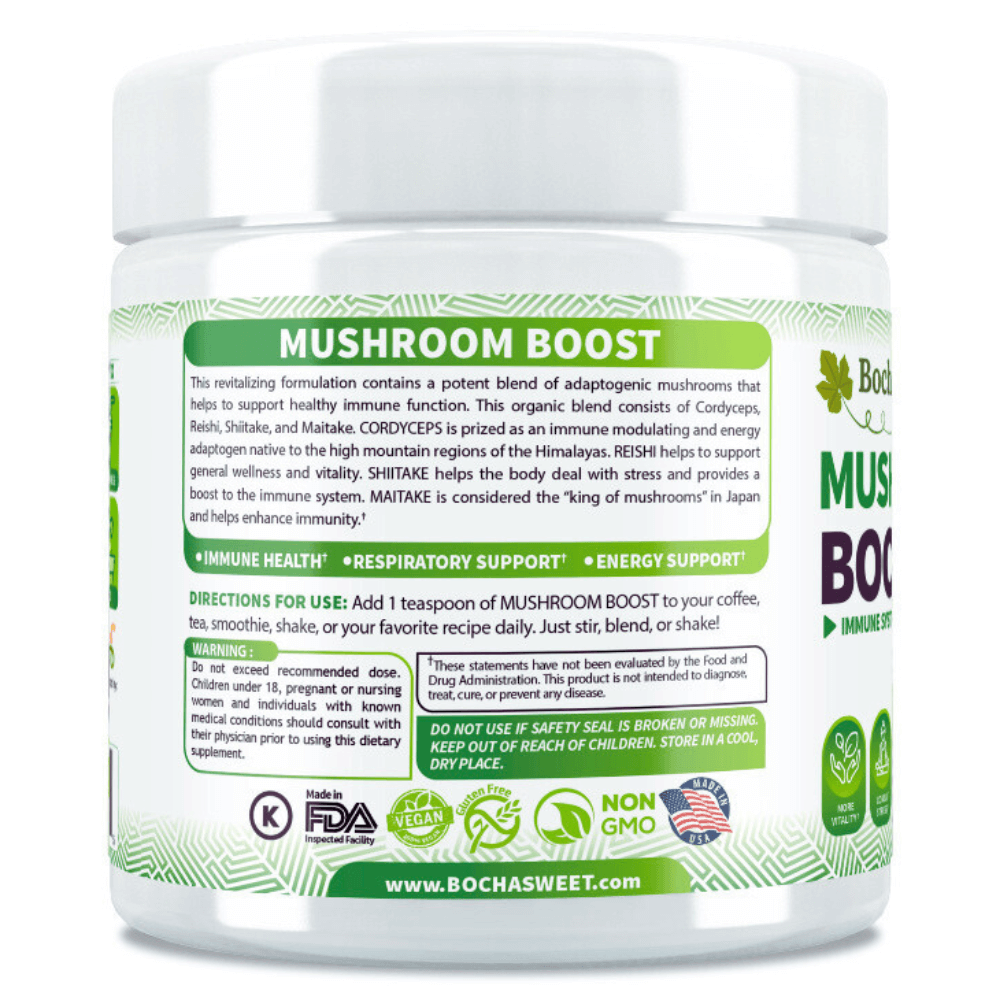 Memory & Cognitive Performance

Reishi has benefits as a brain booster and for mental performance.

Immune System Support

Supports healthy immune system function with Reishi, Cordyceps, Maitake, and Shiitake.

Enhance the Function of Your Body

Experience enhanced mental clarity, vitality, immune function, natural energy and more.

Natural Energy Boost

Athletes use Cordyceps to improve aerobic capacity and endurance.

Combat Stress, More Vitality & Liver Support

This formula is literally "wellness in a jar".
Do you feel yourself struggling to get the most joy and satisfaction out of life, with heightened levels of stress and fatigue stop you from obtaining that vitality you want?
Looking to get a BOOST to your immune system? Luckily, for thousands of years mushrooms have played a powerful role as adaptogens (increase resistance to stress) to help support the immune system. These herbs have been added to Chinese and Japanese culture in the form of brewed tea, cooked in dishes, and added as tonics for overall wellness and vitality.
MUSHROOM BOOST combines 4 of the world's top mushrooms: Cordyceps, Shiitake, Maitake, and Reishi mushrooms.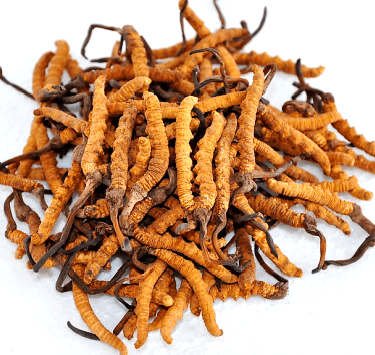 FEEL MORE VITALITY.CORDYCEPS
Cordyceps are harvested in the high mountain regions of the Himalayas and used for centuries as food and medicine, dating back to the 15th century. The polysaccharides in cordyceps help to support theimmune system and energy production – ATP (adenosine triphosphate) – which combats stress. From its ancient beginnings in traditional Chinese medicine, cordyceps has been used as a highly treasured herb known for life-enhancing vitality by adapting to stress and for easy respiration as a "lung tonic". Additional benefits from this tonic herb is extremely powerful as a performance booster: increased energy, oxygen utilization, and immunity.*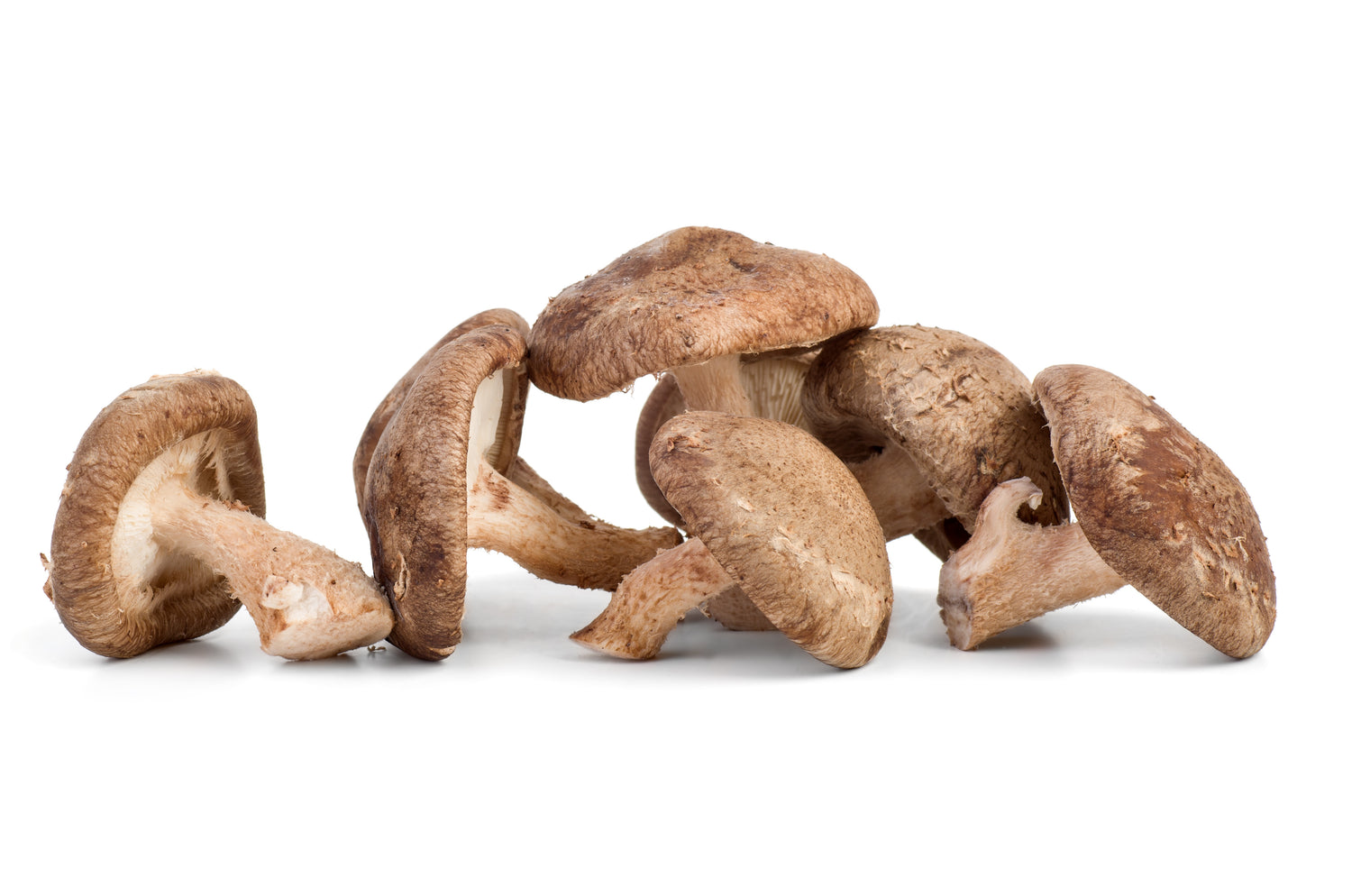 SHIITAKE
Shiitake mushrooms are a treasure from Asia that has been used for a long time as an adaptogen that can help the body deal with stress, and at the same time provide a boost to the immune system.*
MAITAKE
Maitake is a polypore mushroom that grows in clusters at the base of trees and considered the "king of mushrooms" in Japan.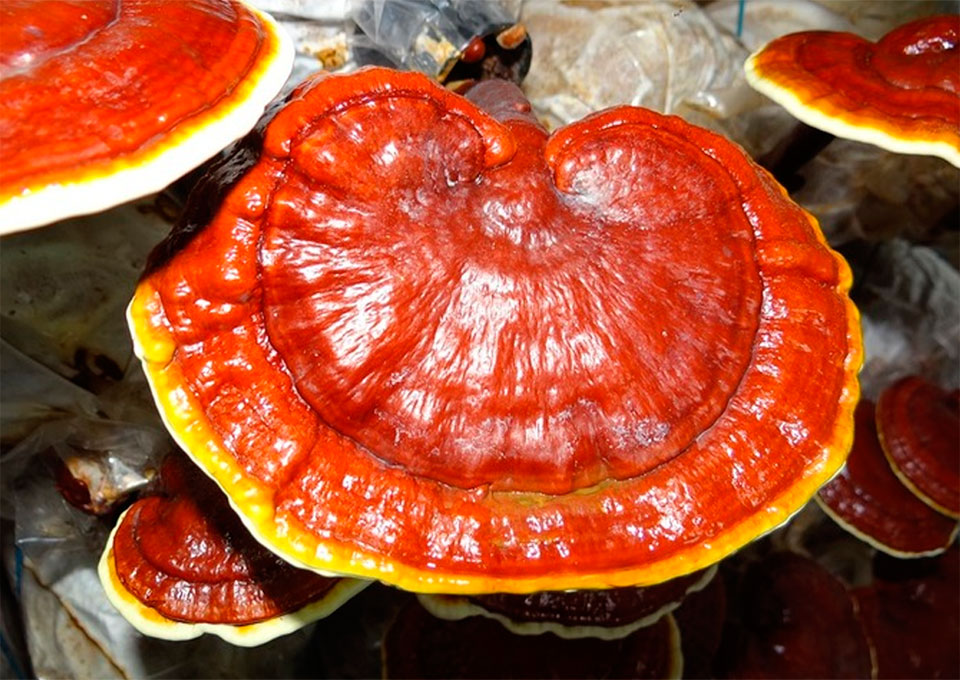 REISHI
Reishi grows on hardwood trees and is considered one of nature's most powerful immune-modulating herbs, and has been utilized for over 2,000 years in Traditional Chinese Medicine. Used for millennia in Asia, Reishi has been respectfully called the "mushroom of immortality" – well known for supporting general wellness and vitality. This herb is very underrated when it comes to it's nootropic properties.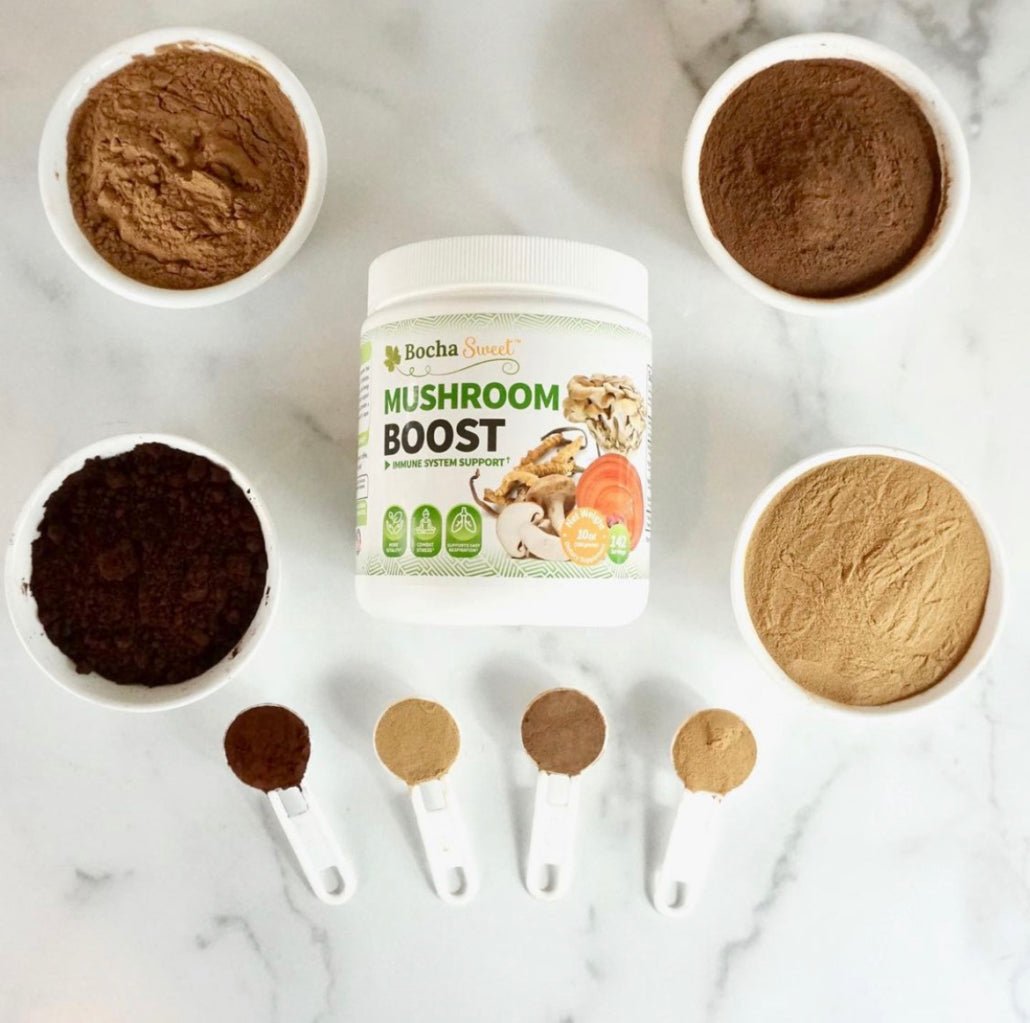 EXPERIENCE THE LIFE-ENHANCING POWER OF BOCHASWEET'S MUSHROOM BOOST!
MUSHROOM BOOST goes beyond cordyceps by adding shiitake, maitake, and reishi mushrooms in a revitalizing formulation that helps to support healthy immune function.
We created this formulation so that you can have these treasured mushrooms all in one jar.
So, if you want to live a life filled with easy respiration, less stress, and more vitality then you want to try MUSHROOM BOOST today.
Frequently Asked Questions
What is Mushroom Boost?

Mushroom Boost is an organic blend of adaptogenic mushrooms that consists of Cordyceps, Reishi, Shiitake, and Maitake. This formula helps to support the immune system, energy levels, and cognitive performance.*
How do you use Mushroom Boost?

Add 1 scoop of Mushroom Boost to you your coffee, tea, smoothie, shake, or your favorite recipe daily. Just stir, blend, or shake!