Regular price
Sale price
$30.95 USD
Unit price
per
Sale
Sold out
A superfood nitric oxide pre-workout that is a synergistic combination of BochaSweet™ with organic beet juice powder that boosts energy during exercise and assists in nitric oxide production.
100% Satisfaction Guranteed

Free Shipping on orders above $64.99
Shipping and Returns

We offer free Standard Shipping on All Orders Over $64.99 in the US.
Orders placed on any business day will be processed on that same day or the next business day.
Allow approximately 2 – 3 business days (Monday – Friday) for tracking information to update.
Business days are Monday-Friday.
Our return policy for an exchange or refund is limited to orders of $25 or less within 30 days of purchase. Learn More.
View full details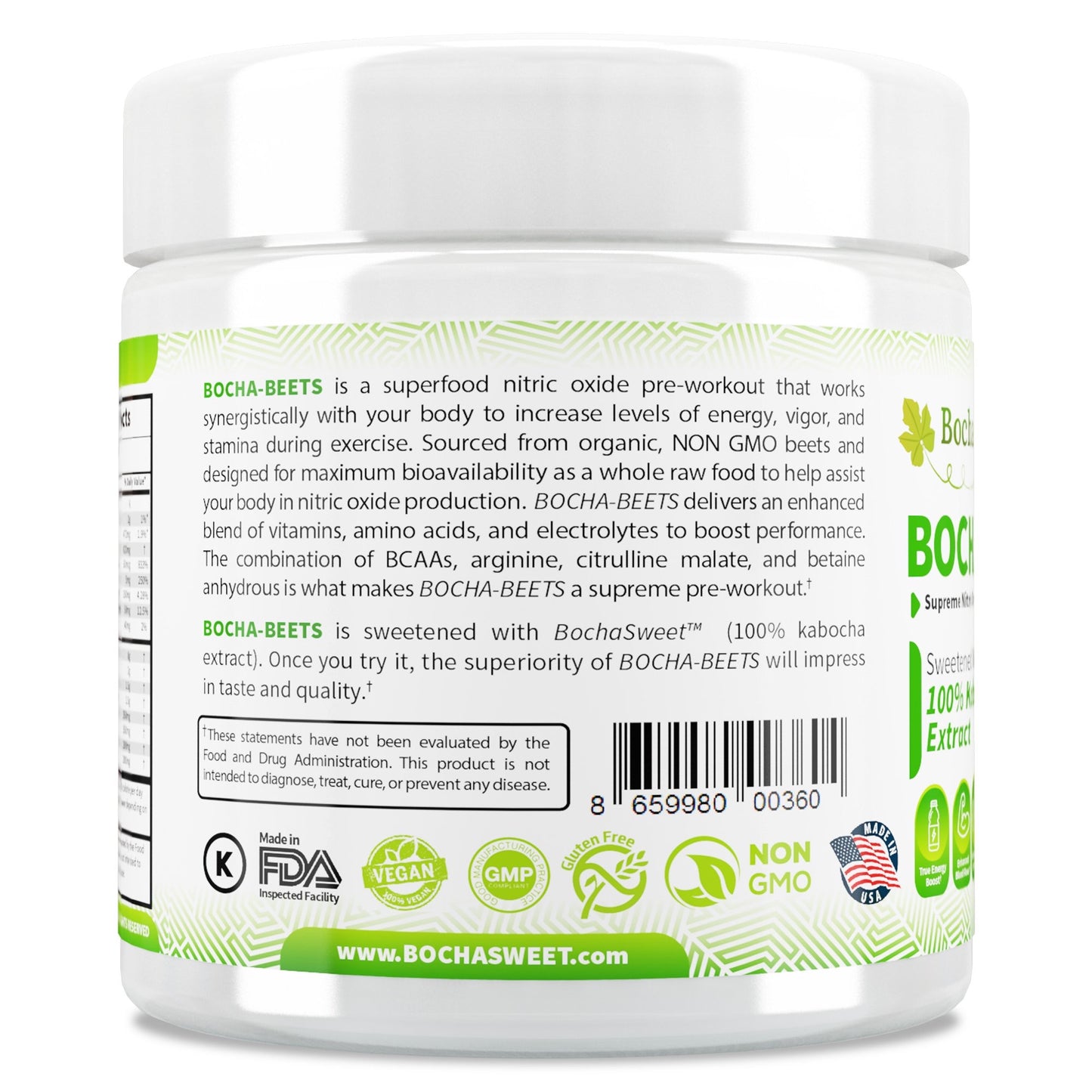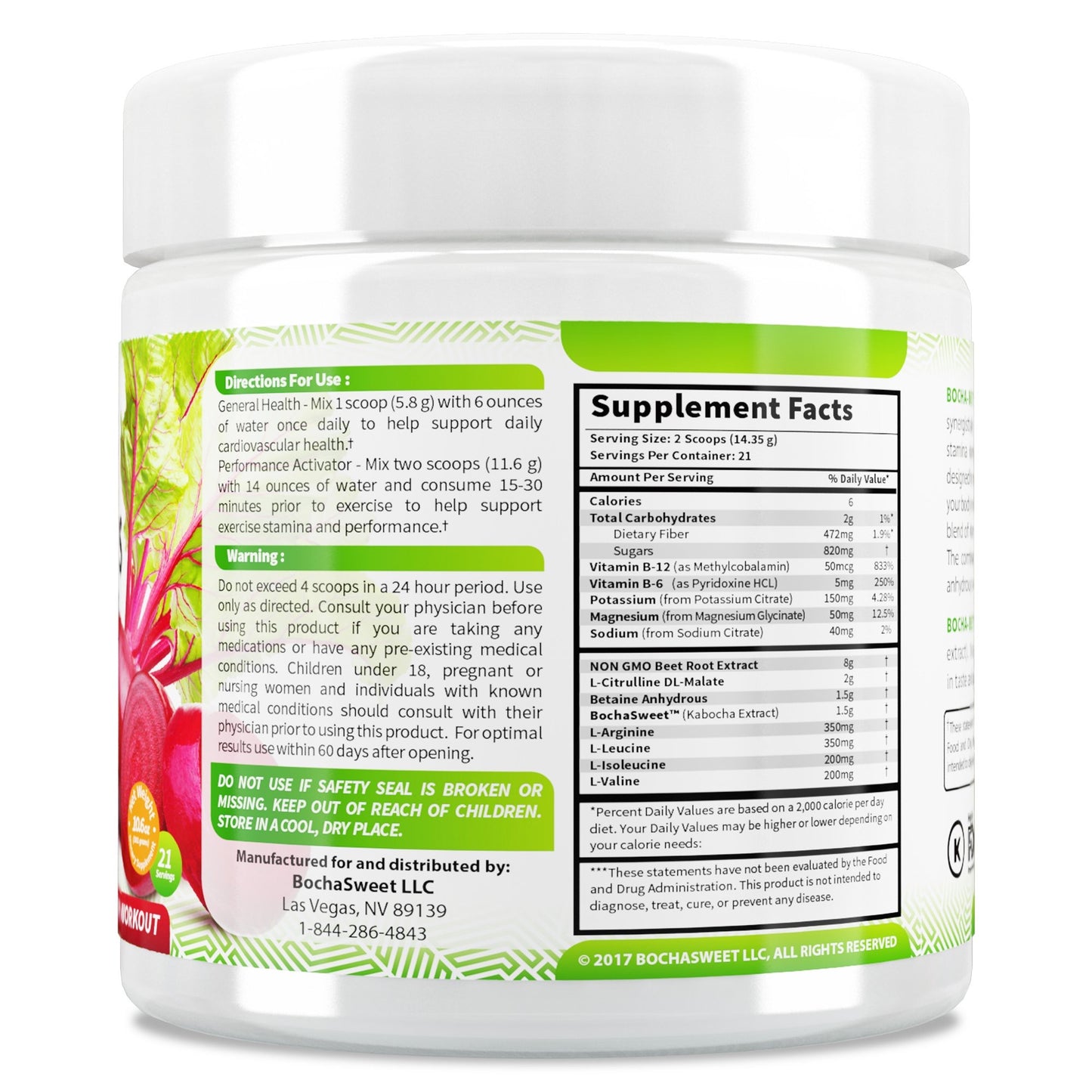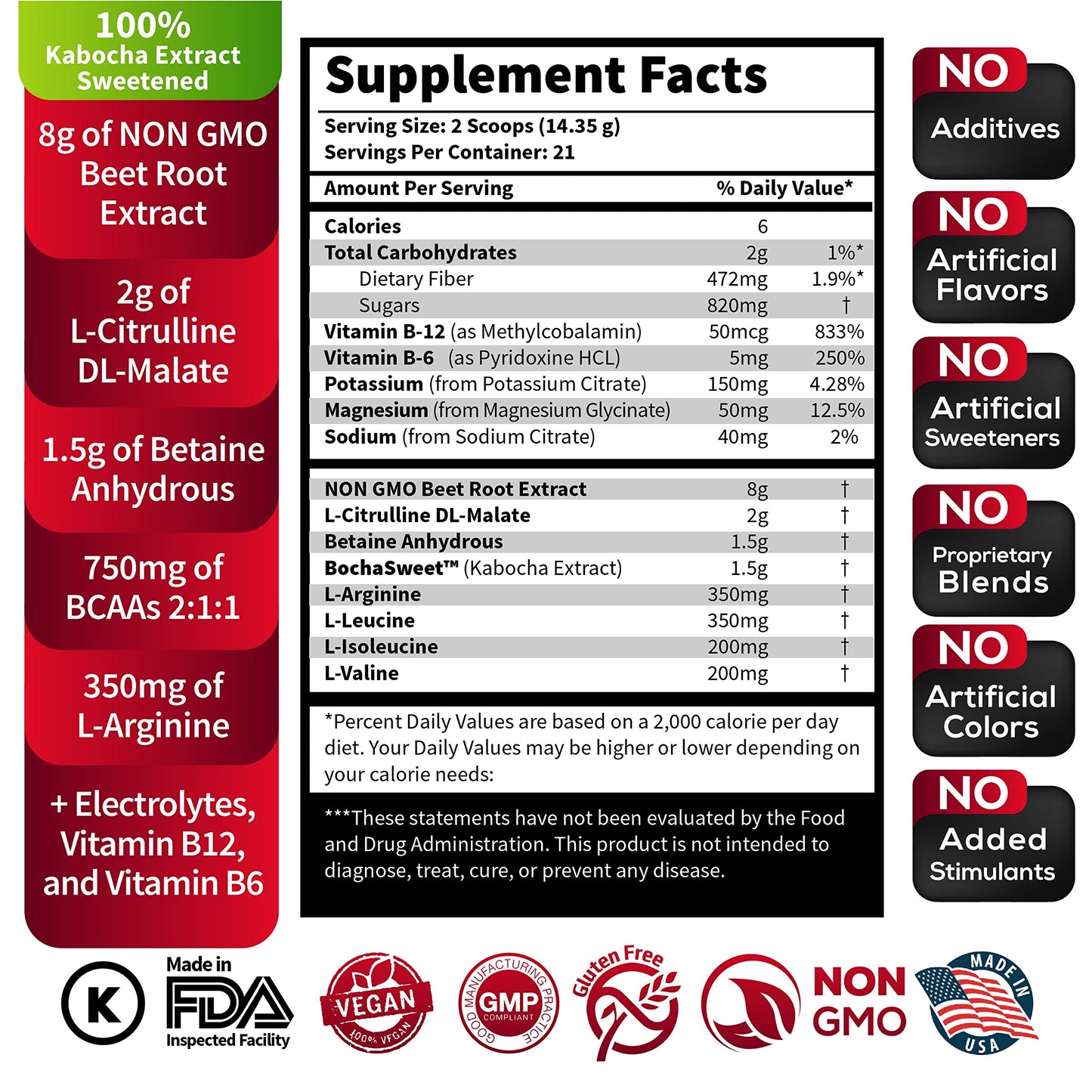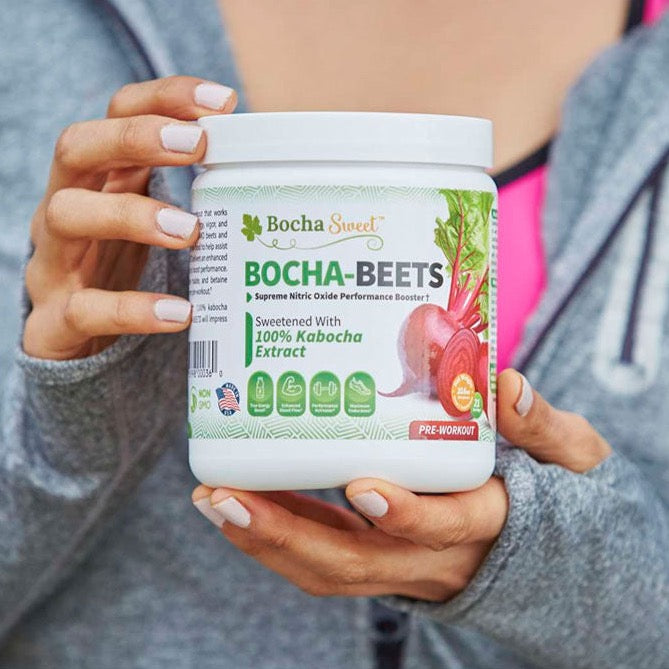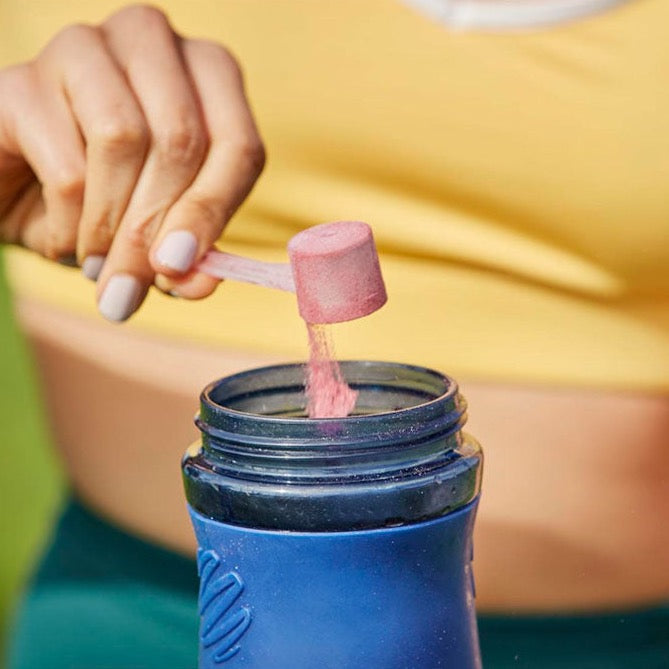 Nitric Oxide Performance Booster

BOCHA-BEETS is a potent high nitrate ORGANIC beet juice extract enhanced with a synergistic blend of vitamins, amino acids, and electrolytes to help boost nitric oxide levels.

Sweetened with 100% Kabocha Extract

BochaSweet's BochaBars are sweetened with zero calorie and zero glycemic 100% kabocha extract for an indulgent sweet taste without any of the bitter.

No Stimulant Jitters

BOCHA-BEETS is a "clean" beetroot pre-workout that does NOT contain caffeine or added sugars that can cause a crash during your workouts. Experience the difference with BOCHA-BEETS through a sustained boost in energy, vigor, and stamina that lasts during your entire training sessions.

Performance Activator

Our stimulant-free formula takes things to the ultimate level with our supercharged dose of 2g Citrulline Malate and 1.5g Betaine Anhydrous for MAXIMUM endurance.

Quality is our Culture

BOCHA-BEETS contains 20x the amount of nitrates than the leading brand, plus our beetroot extract contains almost ZERO sugar per dose.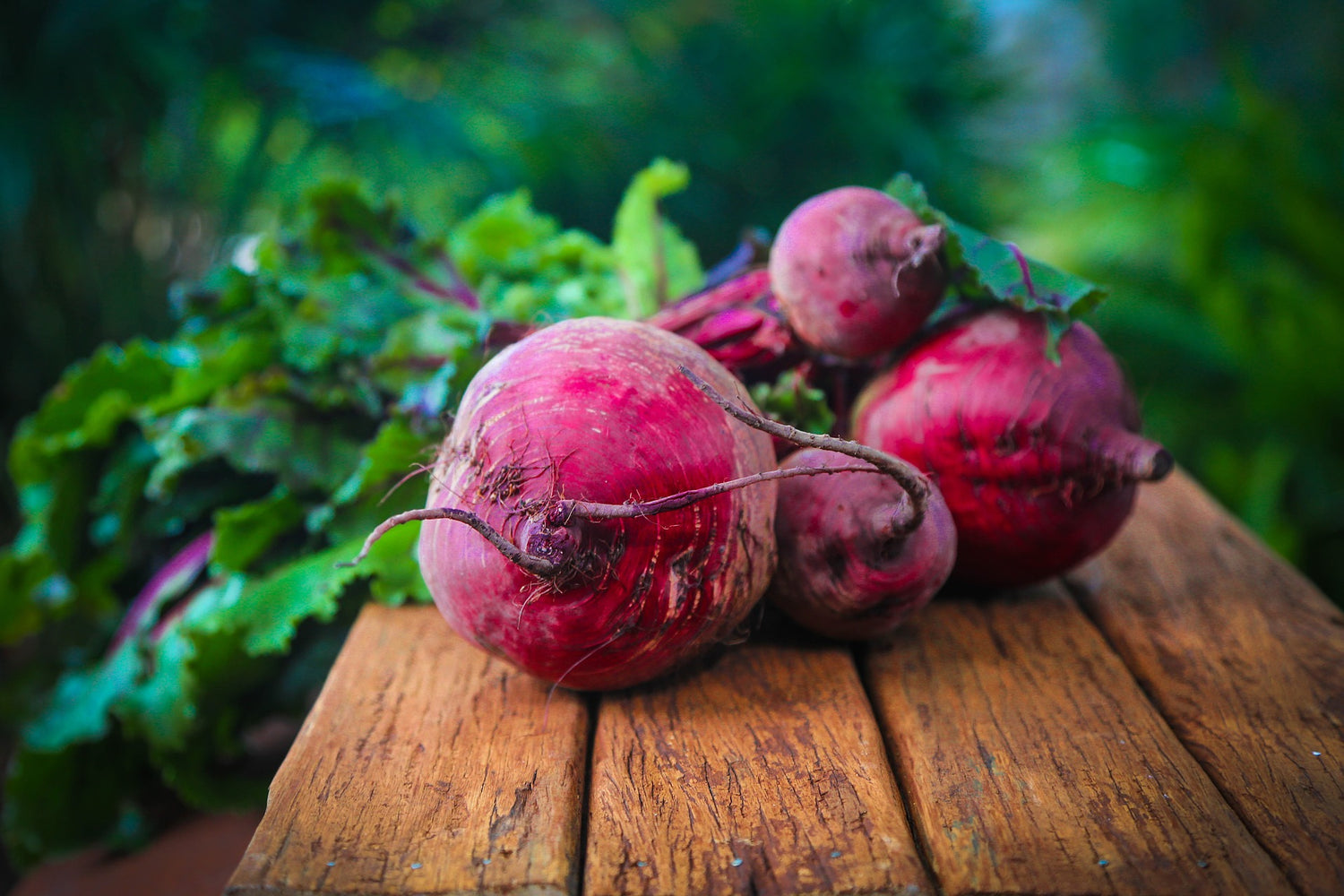 ONE OF THE MOST POWERFUL VEGETABLES AROUND
Beets are an impressive functional superfood that has been achieving notoriety among the fitness community for its ability to improve nitric oxide levels in the body to help aid in sports performance and recovery.
Providing your body with adequate nitric oxide levels is important for maintaining healthy circulation, opening up blood vessels by vasodilation, and enhanced nitric oxide utilization throughout the body. With our formulation, you will experience a potent blend of vitamins, amino acids, and electrolytes for maximum endurance and increased oxygen delivery to the body.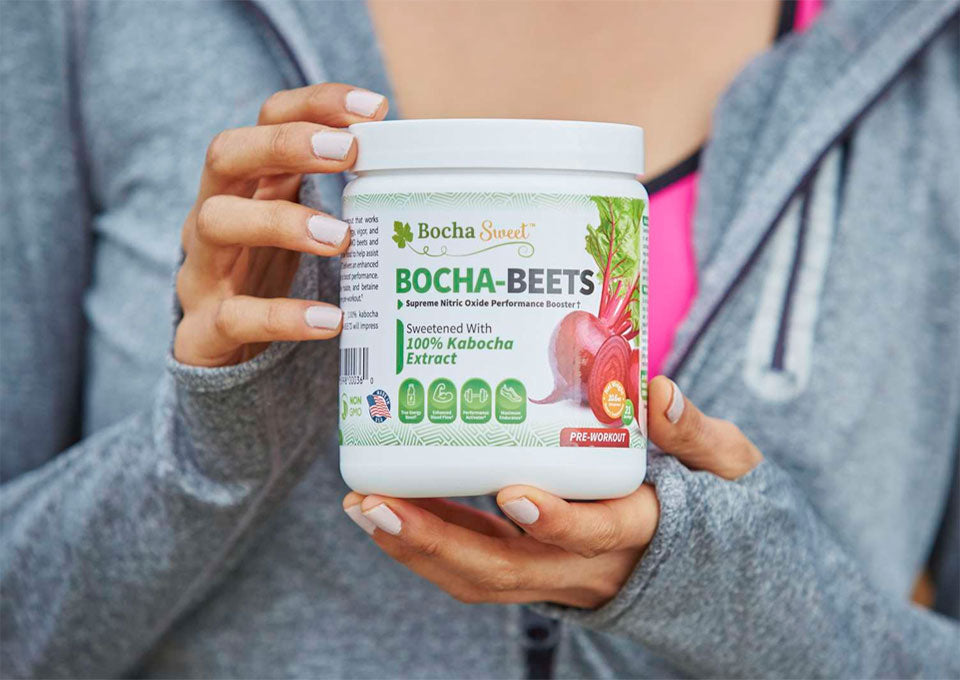 QUALITY IS OUR CULTURE.WE WANTED TO SOURCE OURORGANIC NON-GMO BEETS FORMAXIMUM BIOAVAILABILITY.
Our beets are sourced from organic, NON-GMO beets. Typically, many beet supplements on the market use the powder instead of the concentrate. This is an inferior and less expensive product to make for the brand.
We do things differently with BOCHA-BEETS. This is why we decided to use the beet juice concentrate which has a deep purple color exactly like freshly pressed raw beetroot juice.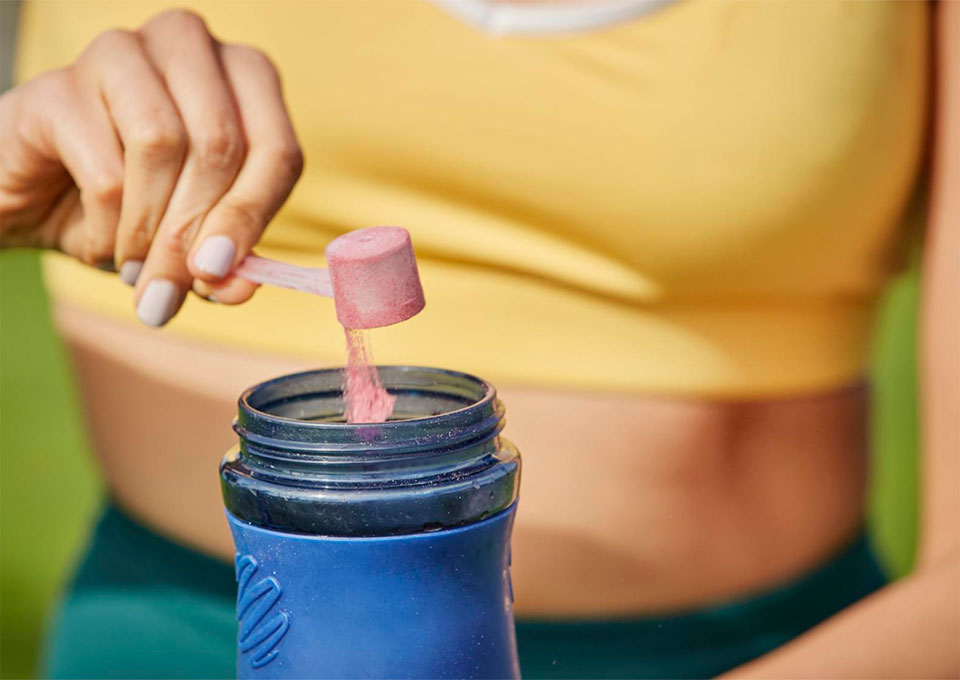 FEEL THE POWER OF N.O. IN EVERY SCOOP
Beetroot is a unique superfood that contains a high concentration of nitrates which dilate blood vessels for the enhanced oxygen-carrying capacity of the blood. Feel the power of N.O. with improved energy and stamina. BOCHA-BEETS promotes healthy circulation as a natural vasodilator which is beneficial for building muscle and recovery. With our highly concentrated beet formula, you will be maximizing your N.O. potential without having to consume a ton of beets every day.
Plus, the real magic with BOCHA-BEETS is in it's synergistic blend of natural nitric oxide boosting ingredients which provide a true energy boost, enhanced blood flow, maximum endurance, and turn the performance activator switch "on".
These ingredients include branched chain amino acids, arginine, citrulline malate, and betaine anhydrous. Plus, added Vitamin B6&B12 along with key electrolytes.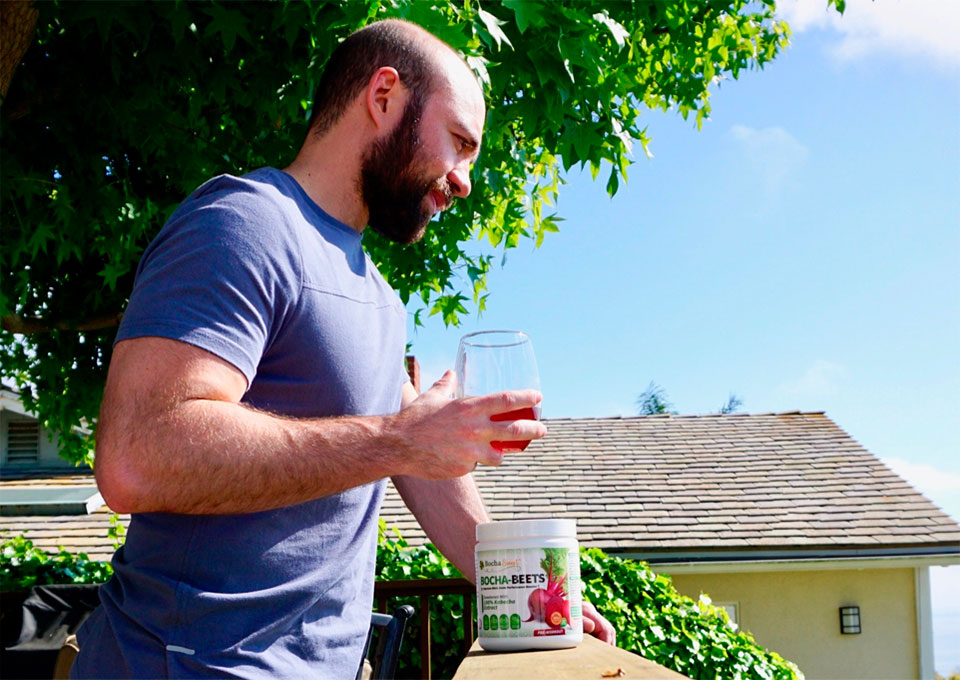 LAST BUT NOT LEAST, THERE IS NO BITTER TASTE. BOCHA-BEETS WILL PLEASANTLY SURPRISE YOU.
Nothing defeats the enjoyment factor faster than drinking a pre-workout with a bitter aftertaste.
Plus, who would want a combination of added artificial flavors and additives to cover up this strange chemical-like taste. Not to mention the feeling of wanting to spit out the unpalatable taste of pre-workout supplements. With BOCHA-BEETS things are different. It was formulated for a pleasantly sweet experience with our BochaSweet™.
Frequently Asked Questions
What's in Bocha-Beets?

Bocha-Beets is a nitric oxide formula comprised of non-GMO beetroot extract powder, citrulline, betaine, BCAAs, electrolytes, and vitamins B6 & 12. It is also the only beet supplement available that is sweetened with BochaSweet.
How do I use Bocha-Beets?

For general health mix 1 scoop with 6 ounces of water once daily to help support daily cardiovascular health. For a performance boost mix two scoops with 14 ounces of water and consume 15-30 minutes prior to exercise to help support exercise stamina and performance.*
Can you take Bocha-Beets if you follow a keto, sugar-free, or diabetic-friendly diet?

Yes, Bocha-Beets does not have any added sugar. It has less than 1g of naturally occurring sugar per two scoops which means it can be suitable for a keto, sugar-free, diabetic-friendly diet. Keep in mind, we recommend consulting with a healthcare provider or physician regarding your personal health situation.