Keto Pumpkin Spice Latte
Our Keto Pumpkin Spice Latte is the perfect beverage to kickstart your holiday mornings. You'll love that this pumpkin spice latte is sweetened with BochaSweet and also gives you a boost to your immune system with an added scoop of Mushroom Boost. Our mushroom powder formula contains a blend of Cordyceps, Reishi, Shiitake, and Maitake mushrooms and mixes easily into this latte recipe for enhanced mental clarity, vitality, and a natural energy boost.
This latte is simple to make and ready within a few short minutes. This pumpkin spice latte is prepared using your favorite coffee, almond milk, BochaSweet, pumpkin spice, and pumpkin puree. If you want to get a little fancy you can add some sugar-free whipped cream on top.
The addition of pumpkin makes this beverage a superfood powerhouse. Pumpkin is packed with nutrients such as Vitamin A, Vitamin C, Vitamin E, fiber, beta-carotene, potassium, zinc, iron, and magnesium.
So, go ahead and give this Pumpkin Spice Latte recipe a try and let us know what you think!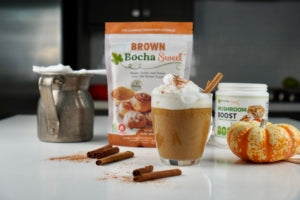 Keto Pumpkin Spice Latte
Total Time: 10 mins
Yield: 1 serving
Instructions:
Pour milk into a small pot and heat on medium-low heat until it slightly starts simmering. Do not over-boil the milk.
Prepare the coffee and pour it into a large mug or mason jar. Add your pumpkin puree, pumpkin pie spice, vanilla extract, and Mushroom Boost. Stir until well combined. (Can use a frother if you prefer.)
Use a frother for 30 seconds to give the almond milk a foamy consistency. Pour it into the pumpkin spice coffee mixture and reserve a little foam to spoon on top.
Feel free to sprinkle some extra pumpkin spice, add in cinnamon sticks, and some sugar-free whipped cream.
Nutritional Information:
Calories: 60
Carbs: 15g
Net Carbs: 3g
Protein: 1g
Total Fat: 3g
Saturated Fat: 0g
Sodium: 95mg
Potassium: 120mg
Fiber: 6g
Sugar: 2g
Calcium: 240mg
Iron: 3.1mg
Keywords: keto pumpkin spice latte recipe
https://bochasweet.com/wp-content/uploads/2022/11/DSC03781-scaled.jpg
1707
2560
BochaSweet
https://bochasweet.com/wp-content/uploads/2016/12/bochasweet-logo.png
BochaSweet
2022-11-21 18:59:03
2022-11-21 18:59:03
Keto Pumpkin Spice Latte