With a beet root supplement joining the BochaSweet product line, we are excited to introduce a delicious recipe that features our nitric oxide pre-workout BOCHA-BEETS. In this recipe, you will be adding in a couple scoops of our great tasting beet root supplement for a delicious nitric oxide boosting pancake stack. To make things even more exciting, a delicious drizzle of melted BochaSweet syrup will make these pancakes super yummy. So, go ahead and enjoy these healthy guilt-free and keto-friendly pancakes.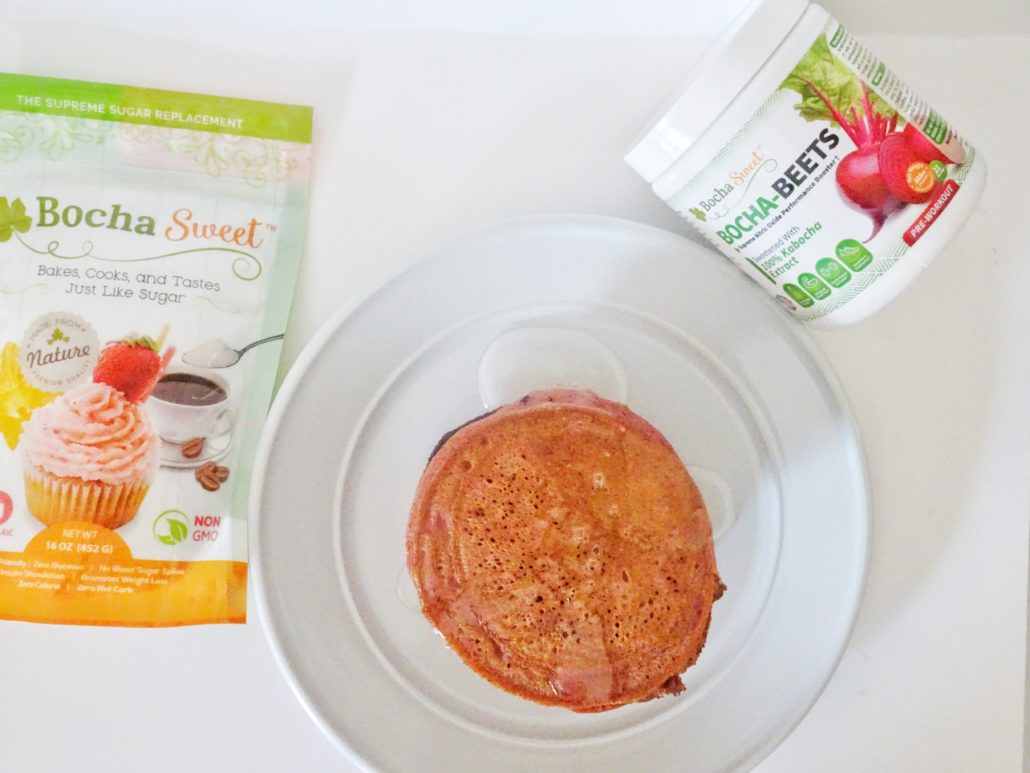 INGREDIENTS
8-10 servings
1 cup almond or tigernut flour
1/4 cup coconut flour
2 tbsp BochaSweet
2 scoops BOCHA-BEETS
6 large eggs
6 tbsp unsweetened almond or coconut milk
1 tsp vanilla extract
1 pinch sea salt
2-3 tbsp coconut oil (for cooking)

1/4 cup extra BochaSweet (for the syrup)
DIRECTIONS
Whisk together all ingredients in a bowl until smooth. Batter will be somewhat thick, if you prefer thinner pancake add a little extra milk.
Preheat a skillet greased with coconut oil on medium-low to medium heat. Using a 1/4 cup measuring spoon drop batter onto pan and form into circles. Cover and cook for a couple minutes until bubbles start to form, then flip and repeat on the other side until browned. Repeat with the remaining batter.
Pour 1/4 cup of BochaSweet into a sauce pan on medium-low and allow to melt into a syrup consistency. Drizzle over pancake stack!
https://bochasweet.com/wp-content/uploads/2017/12/IMG_9336.jpg
4896
3672
BochaSweet
https://bochasweet.com/wp-content/uploads/2016/12/bochasweet-logo.png
BochaSweet
2017-12-10 21:14:39
2017-12-10 21:14:39
Low Carb "BOCHA-BEETS" Pancakes