Beetroot powders are an all-natural, superfood mixture that when consumed on a daily basis can help provide more endurance and energy, enhanced blood flow, and an added boost in overall performance.
In addition nitric oxide helps support healthy blood pressure, healthy circulation, and overall cardiovascular health.
In this article, you will learn what is nitric oxide, how it benefits you, and how beets are one of nature's most potent superfoods for boosting nitric oxide levels.
Why is Nitric Oxide Important?
To put it simply, nitric oxide is one of the most important molecules for blood vessel health. It is a gas (N-O) composed of one atom of nitrogen bonded to one atom of oxygen.
Nitric oxide is a vasodilator which means it relaxes your blood vessels, helping to dilate the arteries thus increasing circulation.
So, it is clear that nitric oxide is critical to your health, especially as we continue to age. Studies show our nitric oxide production drops in half by the time we reach 40 compared to what we had in our 20's.
Nitric oxide is critical because without it every function in our bodies can not work as intended.
This essential molecule allows our blood vessels to relax and expand which creates better efficiency throughout the body along with better nutrient delivery and oxygenation.
Nutritionists and scientists have known for decades consuming high nitrate vegetables metabolize into nitric oxide in the body. But, the problem is many individuals still can remain nitric oxide deficient due to poor absorption in their gut bacteria.
There is one vegetable that is praised for its heavy nitrate concentration as one of the top anti-inflammatory superfoods and that is beets!
How Beets Boost Nitric Oxide
Beets are a superfood with a rich source of essential vitamins and nutrients including folate, vitamin C, iron, betaine, magnesium, zinc, and much more.
Beets have a high nitrate content (>250 mg/100g of fresh weight) among the highest of all nitrate rich foods which include spinach, celery, lettuce, and carrot juice.
Given the high nitrate content of beets, it produces nitric oxide in the body endogenously.
A study conducted on beetroot and exercise performance had nine healthy, physically active men participate in sub maximal and high intensity running and knee extension exercises which increased plasma nitrite by 105% and increased overall time to exhaustion.
Beets are rich in the amino acid betaine, also known as trimethylglycine which improves muscle endurance and increases strength.
The nitric oxide boosting benefits of beetroot also leads to maintaining healthy blood pressure by allowing the blood vessels to widen for more blood flow. It is important to prioritize nitric oxide boosting foods like beets in your diet in order to maintain cardiovascular health.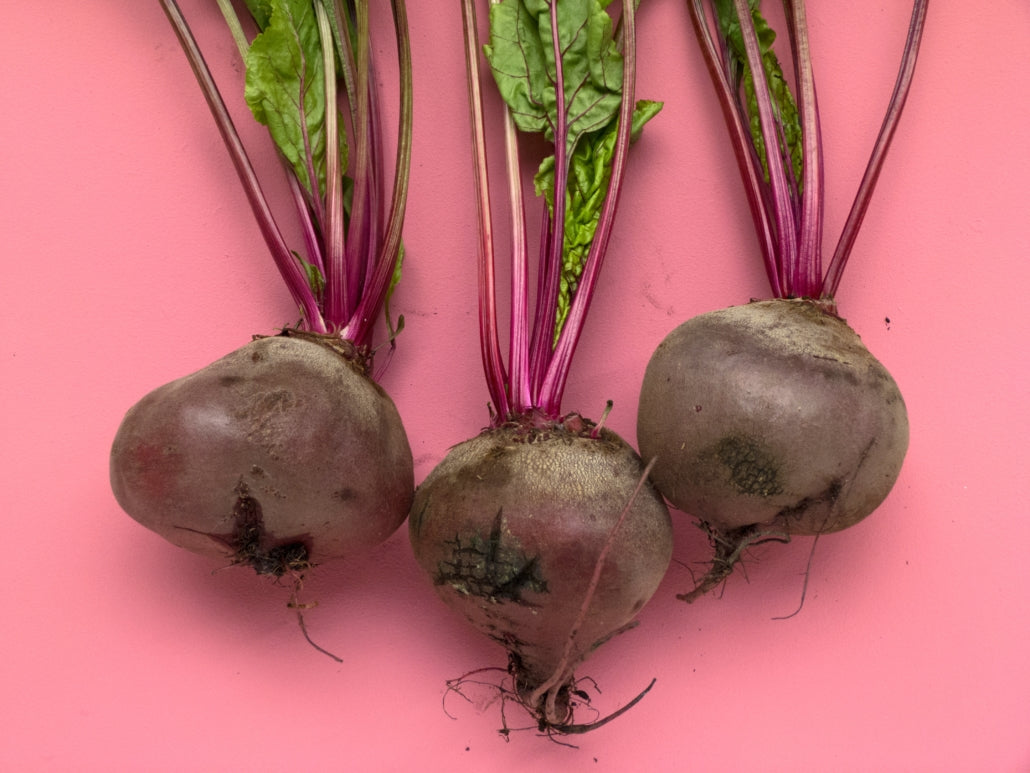 The Emergence of Beetroot Supplements
For many people Beets consumed as a food or even as a juice may not be the "tastiest" thing to do on a daily basis.  The taste of beets is a challenge for some of us to tolerate. Therefore, the emergence of beetroot powders that use sweeteners and "natural flavors" has exploded into the marketplace.
Although, many of these brands do create a high quality beetroot product, the taste still has room for improvement.
What if there was a beetroot powder that not only delivered the nitric oxide benefits but also was enjoyable to drink as well?
A Great Tasting Beetroot Supplement Has Arrived
We went ahead and put together our own effective beetroot formulation which has a synergistic combination of natural ingredients without any additives, flavorings, or a funky aftertaste.
This beetroot supplement is called BOCHA-BEETS and is sweetened with zero-glycemic "BochaSweet" sugar replacement, the absolute best tasting keto-friendly sweetener available.
Since we are certain that you will love the taste of BOCHA-BEETS, we want to give you a FREE 1 LB pouch of BochaSweet with your order of BOCHA-BEETS so you can sweeten your other favorite beverages. Experience the benefits of having healthy blood flow, more energy, more endurance, and healthy circulation today!
https://bochasweet.com/wp-content/uploads/2019/06/adults-arms-around-couple-1586481.jpg
4667
7000
BochaSweet
https://bochasweet.com/wp-content/uploads/2016/12/bochasweet-logo.png
BochaSweet
2019-06-14 00:10:13
2019-06-14 00:10:13
How to Boost Nitric Oxide Naturally with Beets