What's the solution when you want to avoid the extra carbs but still have a strong desire for brownies. Simple. Make them flourless! These delicious flourless fudgy keto brownies combine the best of both worlds, fudge and brownies!
Traditional brownies use white flour and a mixture of white and brown sugar which spikes your insulin levels while promoting weight gain. This recipe uses keto-friendly ingredients to create the same fudgy brownie flavor, at the same time keeping it gluten-free, diabetic-friendly, keto, and paleo friendly.
The batter portion of these brownies is created by mixing together grass-fed butter, egg whites, dark chocolate, coconut oil, and BochaSweet sugar replacement. When melted over a stovetop the flavors blend nicely for a delicious soon-to-be fudgy texture. Don't be surprised if you are tempted to lick the batter!
The fudgy keto brownies will make your heart melt the minute they hit your tastebuds. So, go ahead and enjoy this decadent, guilt-free dessert.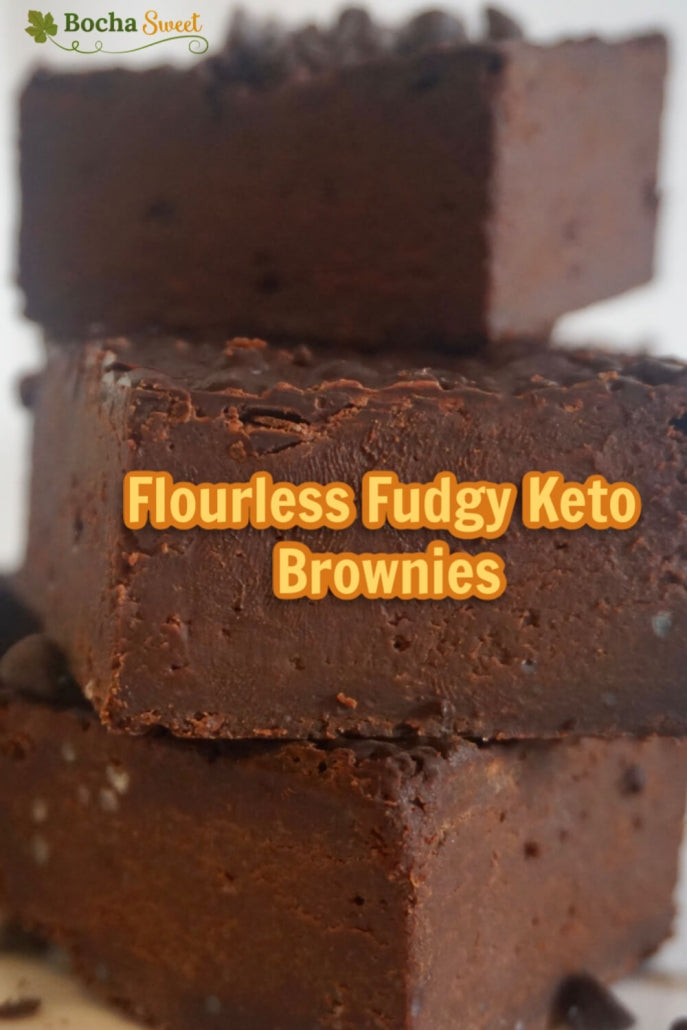 Flourless Fudgy Keto Brownies
Start to Finish: 45-60 minutes
INGREDIENTS:
8 tablespoons grass-fed unsalted butter
4 tablespoons coconut oil
10 ounces finely chopped dark chocolate (80% or higher)
4 large eggs (or egg whites)
1 cup BochaSweet
Optional: 1 scoop MCT powder
1/3 cup brown sugar substitute
4 teaspoons. vanilla extract
1/2 cup cocoa powder
1/4 teaspoon salt
6 tablespoons arrowroot flour
1/2 cup sugar-free chocolate chips (optional)
INSTRUCTIONS:
Preheat the oven to 350F and grease a parchment paper lined 8×8 baking pan.
In a large pot, whisk together the butter (softened), chopped dark chocolate, coconut oil, eggs, sweeteners, and vanilla extract. Stir until well mixed on medium heat.
Add the arrowroot flour, cocoa powder, and salt to a mixer on low setting. Then add the liquid mixture into the dry ingredients and mix well until a smooth consistency forms. Optional: for a nice crispy top layer you can add a thin layer of sugar-free chocolate chips or chopped dark chocolate.
Spread the batter onto prepared baking pan. Bake for 30-45 minutes.
Remove and let cool until pan is no longer hot. Refrigerate over night and enjoy!
Serves: 12
NUTRITIONAL INFORMATION (PER SERVING):
Calories: 240
Total Fat: 20
Saturated Fat: 14g
Cholesterol: 15mg
Sodium: 25mg
Total Carbs: 26g
Fiber: 5g
Sugars: <1g
Protein: 4g
Vitamin A: 2%
Vitamin C: 8%
Calcium: 4%
Iron: 20%
https://bochasweet.com/wp-content/uploads/2019/10/Flourless_Fudgy_Keto_Brownies_product.jpg
4000
6000
BochaSweet
https://bochasweet.com/wp-content/uploads/2016/12/bochasweet-logo.png
BochaSweet
2019-10-05 20:19:02
2019-12-31 00:07:04
Flourless Fudgy Keto Brownies