Recipe and content provided by Tara Wright, Whole Body Living
These Keto Coconut Flour Waffles are light and fluffy, reminiscent of childhood Sunday mornings. As children, we would wake on Sunday mornings to the treat of either waffles or cinnamon rolls. My mom would make the maple syrup from scratch and the entire house would smell of maple and waffles.
Once mom and I both became dedicated to a ketogenic lifestyle, I wanted to create a substitute that was healthy and tasted amazing. We top these with my homemade keto maple syrup which is quick to make while you're cooking your keto waffles. This is a large batch, fit to feed a family or stock your freezer with keto breakfasts.
These keto coconut flour waffles freeze beautifully. In fact, I like to pop a few in the toaster on a lazy Sunday morning and enjoy them crisp and hot with a generous amount of organic butter on top.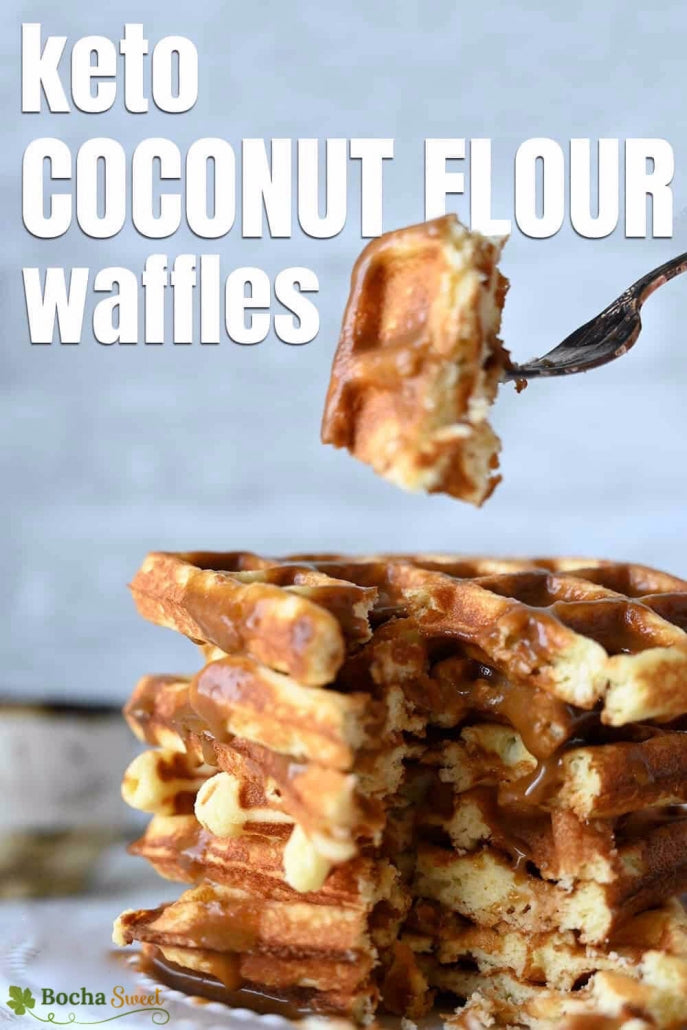 Keto Coconut Flour Waffles
Start to Finish: 26 minutes
INGREDIENTS:
1 cup coconut flour (123g)
1 teaspoon baking powder
1/2 teaspoon xanthan gum
9 eggs
1/2 cup avocado oil
4 oz cream cheese softened
1/2 cup water
3/4 cup sour cream
1/4 cup BochaSweet
1 teaspoon vanilla
1/2 teaspoon salt
INSTRUCTIONS:
In a small bowl, mix together coconut flour, baking powder and xanthan gum and set aside.
In a large mixing bowl, combine eggs, avocado oil, softened cream cheese, water, sour cream, BochaSweet, vanilla and salt. Using a whisk or mixer, blend together until completely combined.
Add the dry ingredients to the wet ingredients and blend together until combined. Then blend on low speed for 3 minutes. The batter will thicken along way as the coconut flour begins soaking up the ingredients.
Preheat your waffle iron and allow your waffle batter to rest while it heats up. In the meantime, prepare your waffle baking area and clean up your mess.
Bake each waffle as instructed with your specific waffle iron. Cook time varies between 3-6 minutes depending on the waffle iron you are using. These seem soft when they first come out of the waffle iron but will firm up as they sit. This has to do with the coconut flour continuing to absorb the moisture.
Servings: 28 waffles
NUTRITION FACTS (Per Waffle):
Calories: 99
Carbs: 3g
Protein: 3g
Fat: 8g
Saturated Fat: 3g
Cholesterol: 60mg
Sodium: 90mg
Potassium: 52mg
Fiber: 2g
Sugar: 1g
Vitamin A: 169IU
Vitamin C: 1mg
Calcium: 26mg
Iron: 1mg
https://bochasweet.com/wp-content/uploads/2019/11/Keto-Coconut-Flour-Waffles_Blog-Post-Image.jpeg
600
1200
BochaSweet
https://bochasweet.com/wp-content/uploads/2016/12/bochasweet-logo.png
BochaSweet
2019-11-18 17:38:10
2019-12-31 00:05:40
Keto Coconut Flour Waffles